City of Ojai Departments
To view additional information about city departments, click links below.
Ojai is a city in Ventura County in the U.S. state of California. Located in the Ojai Valley, it is northwest of Los Angeles and east of Santa Barbara. The valley is about 10 miles (16 km) long by 3 miles (5 km) wide, surrounded by hills and mountains. Set in a valley in the Topa Topa Mountains, the city has a village-like center dotted with art galleries and quaint, fashion-forward shops. Bordering on the north and east, Los Padres National Forest is crisscrossed with meandering trails. Nearby Lake Casitas is another popular recreation area.
Every April, the Ojai Valley Tennis Tournament hosts the Pac-12 championships, and in June, the Ojai Music Festival features famed classical artists. Libbey Bowl, in the heart of the city, has hosted on its stage some of the world's most renowned performing artists. Ojai is small, with a population hovering around 7,600, with a total of about 21,000 in the entire Ojai Valley, but it's a busy place with a tight-knit, caring community.
Libbey Bowl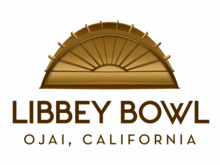 About Ojai
The valley we now call Ojai was settled by the Ancient Chumash Indians spanning more than 10,000 years ago. They believed that the valley holds mystical powers and that a magnification of energy exists exuding a peaceful sacredness that can be felt. This energy that first drew the Chumash to the valley has been celebrated through the years and many believe today that Ojai is a 'vortex' – an unseen force that concentrates energy. Some equate this vortex to the valley's unusual positioning of the mountain range that runs East to West, and that this helps hem geological tremors and atmospheric energy. Others point to geology and that the stratified mountain rocks inlaid with quartz can harness energy, transmitting it along lines like subway trains filled with good vibrations. The Pink Moment, a rare and magical moment that draws thousands of visitors to Ojai every year happens as the fading sunset creates a brilliant shade of pink for several minutes on the Topa Topa bluffs- over 6,000 feet above sea level. Whether you believe in this energy or not- there is something about the Ojai Valley that cannot be described – but can be felt- and the only way to explain it, is to visit for yourself.
Today, downtown Ojai is filled with art galleries, restaurants and boutiques. Home to artisans of every calling, farmers, hippies, celebrities, spiritualists and of course the famous Ojai Valley Inn.