REVIEWS | By Sami Zahringer
"Bakersfield Mist" at Ojai Art Center Theatre
---
The scene is a kitschy, cramped mobile home in Bakersfield, California but the questions raised in the "Bakersfield Mist", now playing at Ojai Art Center Theater, are Big and universal. What is Art? Who gets to decide that? In exploring them, this comedy of indignation and high stakes for the soul throws up further questions of class, education, truth, and humanity and the audience watches them being battled out with sass, sauce, wit, and pathos between two characters from two very different Americas.
Unemployed Maude, (Lee Ann Manley) a salty, bourbon-swigging, middle-aged woman has acquired for $3 at a yard sale what she believes to be a genuine Jackson Pollock painting. Enter Lionel, a snooty, travel-weary, world-class art appraiser just arrived from NYC, whom Maude has scrimped and saved to hire in order to authenticate the painting, and who clearly wants to be anywhere but in her trailer.
Most of the comedy of the play proceeds from the contrast and clash between these two chalk-and-camembert individuals. Lionel is a pompous, insufferable, out-and-out snob who makes no effort to hide his distaste at Maude, her home, and everything she represents.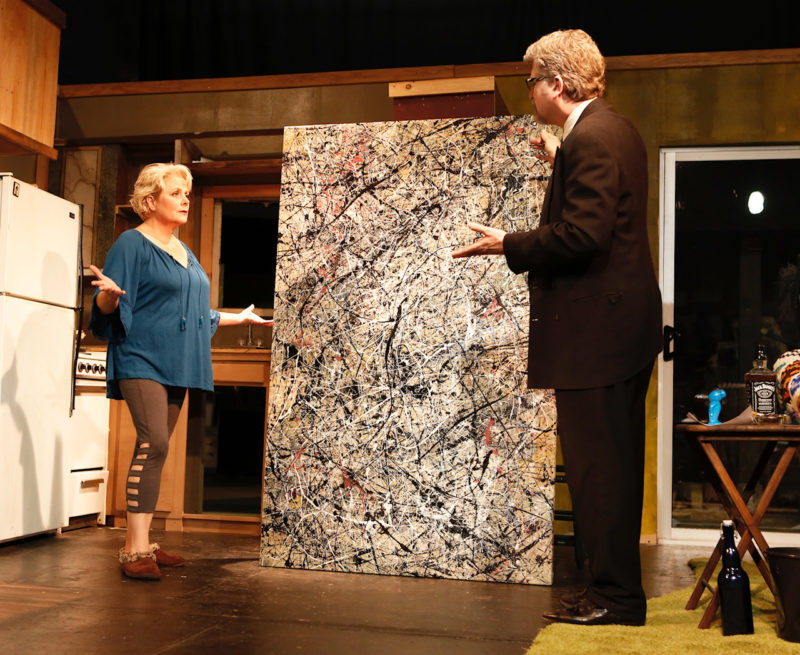 Lionel, a one-time director – or "the Pope", as he has it – of the Metropolitan Museum of Art is now serving out his years as an art appraiser and haughtily brags about his famous "blink" that can discern a masterpiece from a fake in an instant. Paul Sulzman in the role gives full rein to his considerable comedy chops while effectively giving us a real sense of a lonely, wounded man. The chemistry between this real-life, multiple-award-winning couple adds pleasing seasoning to their riotous double-act.
As the play progresses, Maude insists that she "knows"- she "FEELS" – that her painting is a true Pollock – and it turns out she has a good case for her belief. What we also see, though, is just how much she needs it to be the real thing. A pointedly individual character, she also represents the multitudes of economically forgotten and socially derided Americans who feel invisible and left behind by the culture. In addition, life has been cruel to her in the worst of ways. Far more than the potential fortune her painting could make her, she needs the personal validation of having something that matters, and therefore, for once, being someone who matters.
Manley plays Maude with sassy, saucy, brassy, bravado, zinging Lionel with sharp one-liners and cutting insights that prove that, although she lacks aesthetic training, or "taste", as Lionel puts it, she is a woman of considerable intelligence in her own right. Although she wears that intelligence lightly, by design, she proves a formidable combatant against Lionel. "Be a person!" she barks at him, and, later, for different reasons, he has cause to level the same thing back at her.
Manley expertly handles the affecting transitions in and out of blowsy, bourbon-soaked, trailer trash, displaying flashes of anger and pain, to a soul that has genuinely been profoundly moved by her painting. In some beautiful lines of dialogue, she describes finding her troubled late son in the chaos of the piece's paint spatters and her authentic response to it somehow renders Lionel's dismissal of its authenticity redundant and almost ridiculous.
Lionel, as we learn, has his own reasons for desperately needing to be right in his appraisal. Our initial visceral dislike of him is tempered by his impassioned delivery of a beautiful, shining, personal manifesto on the power of art on his heart and soul. First impressions in art and in life can often be wrong, as it turns out.
Susan Kelejan, the director, manages the pacing of the piece almost as a piece of music. Fiery, combative scenes rage on at top kilter, but are punctuated by sudden, lovely moments of calm as the two discordant characters find for a moment small patches of harmony, moments they each find as surprising and enlightening as they are cautiously welcome.
Set Designers, Robert Decker and Steve Mitchell, have designed an authentic looking run-down trailer home, which Kitty Batholomew has clearly had fun decorating with tchotchkes of all sorts to illustrate Maude's pack-rat lifestyle.
"Bakersfield Mist" is a fast-paced blend of heart, brain, and belly laughs. From the chat in the ladies bathroom afterwards – which is often where one hears what people really thought of a play – the universal feeling was that nobody had quite known what to expect from this relatively new play but had been "blown away", "delighted" and thoroughly entertained by a well-cast, food-for-thought production.
Producer Aaliyah Mora-Khan and Ojai ACT Richard Camp have delivered to local audiences an hilarious rendition of a US and world-wide hit that has been translated into several languages and, notably, been performed in London's West End by no less an actor than Kathleen Turner. The many conversations provoked by this production will continue long after the curtain closes on it. This is a very easy play to heartily recommend.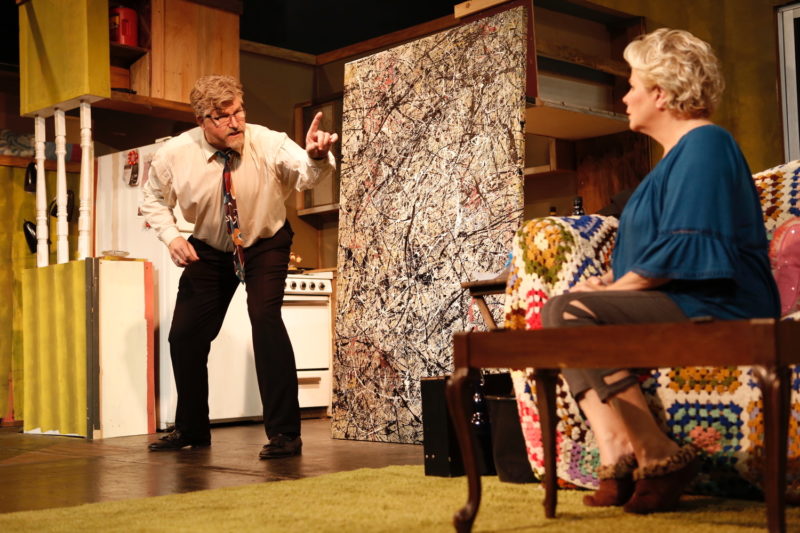 "Bakersfield Mist" runs through May 27th at the Ojai ACT, 113 S. Montgomery St., Ojai. Performances are Fri. and Sa. at 7:30pm and Sundays at 2pm. Tickets are $20 General Admission, $18 for Seniors and Art Center Members, and $10 for Under-25s with ID. For more information go to www.ojaiact.org or call 805-640-8797