WATER NEWS | By Bret Bradigan
Through Ojai's Dry Spell, Ideas Flow
---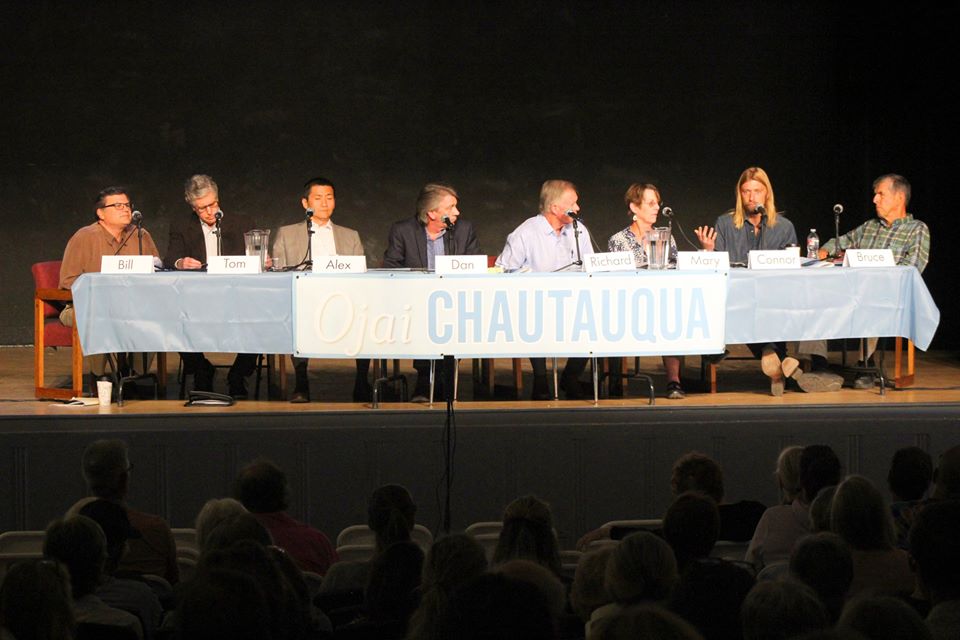 Though the shadow of drought looms over Ojai, there was no drought of ideas at the Ojai Chautauqua's second panel on water in the Ojai Valley on Sunday afternoon before a packed house at Matilija Auditorium. For two hours, the eight panelists spoke with passion and insight about the threat caused by the years-long dry spell, but also about the opportunity to create a community-wide model of responsible and sustainable water use. The panel was moderated by Tom Krause, Chautauqua president, and included a mix of local government and water board members, along with Tom Ash, a conservationist and current senior planner with the Inland Empire Utilities.
Promise in Permaculture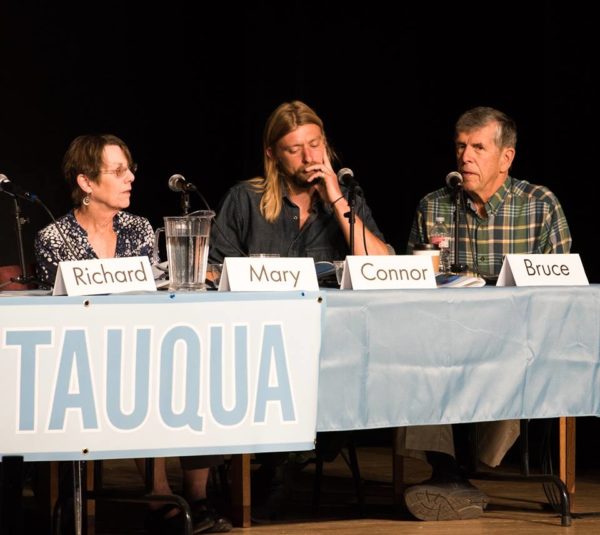 Connor Jones, though the youngest panelist, has closely studied rainfall and watershed issues for his work as a permaculture designer. He spoke about the March 21 rainfall, "the last rain event of this year … when 500 cubic feet of water was going down the drain to the ocean," through the Ventura River and San Antonio Creek watersheds. The goal should be to "slow, spread and sink" to build up storage and to replenish the aquifers. "Plenty of these projects don't require large engineering systems."
City Council member Bill Weirick said that although the city of Ojai "is only 4.3 square miles it has 16.5 miles of stream channels." He also cautioned that it makes sense to capture more rainwater for storage and recharge, but the engineering can be tricky. A $2 million catchment basin near San Antonio Creek "is not working right." Also, he researched the fact that in 2016-2017, as much as 346,000 acre-feet of water fell over the 253-square miles of the Ventura River watershed, "and 90 percent was lost to evaporation."
Mary Bergen, board member of the Casitas Municipal Water District, talked about Casitas' plans to drill into the Matilija aquifer, which is behind Lake Casitas and could yield 7,000 gallon per minute or two- to three-thousand acre feet per year, though its cost, $5 million to $7 million, is prohibitive, especially since the U.S. Forest Service hasn't communicated with the water district about the project. She said, in any event, it would best serve as an emergency supply. "We have every reason to believe that it's nice water," she said.
As far as emergency supplies, the "Three Sisters Plan" developed by panelist Richard Hajas and others, was also discussed. The plan would involve Calleguas Water District, which primarily supplies Camarillo and Thousand Oaks, paying to build a pipeline to Lake Casitas to store about 30,000 acre-feet of water. Since Calleguas is hooked up the State Water Project, Casitas could then be hooked up a statewide water supply. The plan awaits approval from the Casitas board, and would also require approval from Ventura and Calleguas boards.
According to one of the plan's proponents, Larry Yee, who wrote to the Ventura County Star after the plan was presented to the Casitas board earlier this month, "Not a not a drop of imported water from the state system would be put into Lake Casitas. Rather, in times of need, state water would augment the supply in the pooled and coordinated system created by the three agencies (the Calleguas and Casitas water districts and the city of Ventura), but none would go into the lake. It's not a good idea to put treated water into the lake, as it would degrade water quality.
"The lake would begin to refill because less water would be required from the lake to supply demand, and over time accumulated rainfall would fill the lake back to a minimum sustainable level of about 125,000 acre-feet. Currently, the lake is about 80,000 acre-feet.
"Essentially, the Three Sisters Plan pools and integrates water supply sources, provides for emergency storage in the lake, augments with state water and shares costs. The benefits to each of the water districts would be mutual, and most importantly, there would be adequate and reliable water supplies in times of prolonged drought for not only the Ojai Valley but residents throughout the county.  This would not preclude the need to conserve. But it would prevent us from living in constant fear of no water and the severe restrictions of drought stages 4 and 5.  This proposal fully recognizes and makes adjustments to the new climate realities we face. Casitas' current plan does not. It's high time we make the necessary changes before we are caught up the proverbial creek (dry)."
Jones pushed back on the Three Sisters plan, asking "Why would we need to go ask for something from someone else's house when our house isn't in order?"
Tom Ash, who has been a pioneer on water conservation efforts, said that water issues are critical in California, and that grant money is available for innovative approaches to solving this existential crisis.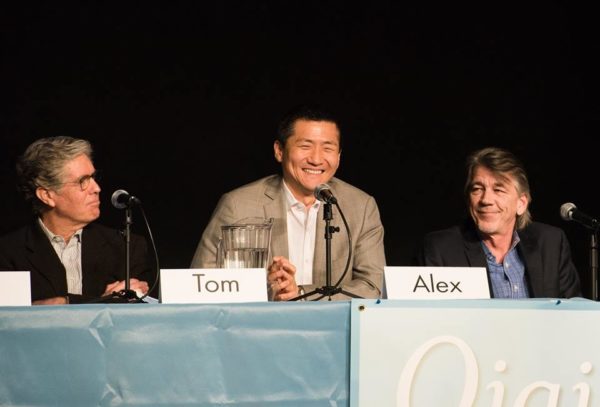 The panelists also took questions from the audience. Alex Kim, managing director of the Ojai Valley Inn & Spa, was asked by councilmember Suza Francina if the resort would close should the valley reach stage 5 drought, (Stage 3, which requires 20 percent reductions in water use, was declared in July 2016). Stage 5 would ban irrigation for lawns. Kim said the resort would stay open, though the golf course would not be watered, and that would likely decrease the number of hotel guests. Consequently, local businesses and tax payments to the city of Ojai would also decrease.
Kim pointed out that the Inn has been proactive, recently spending $2.5 million for high-tech, low-use irrigation system. And that guests are encouraged to reduce the amount of laundry required, mindful of the water situation.
Dan Breen, an elected member of the Ojai Groundwater Basin Management Agency, put the onus for solutions on the voting public. With greater participation, more inclusive and compelling solutions can be found. "Come talk to us, (the OGBMA is working on a draft water management document that includes representatives of all local water suppliers), read it, come and talk to us about it," he said. The OGBMA is meeting at city council chambers on April 26, 5 p.m., about the groundwater management plan and welcomes public input.
Breen also got the best laugh line of the discussion. He said it was ultimately the voters' responsibility. "If you don't like the job we're doing, vote us out. That'd make my wife happy."
For more information, follow Ojai Chautauqua on Facebook for  the video recording of this event which is anticipated later this week.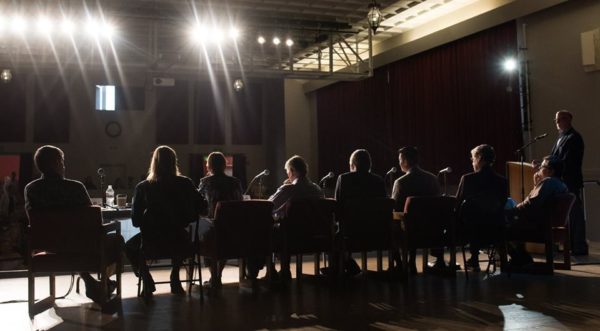 CHAUTAUQUA PANELISTS
• TOM ASH has over 30 years of experience in the fields of water use efficiency, public education and horticulture. As a water conservation specialist from the University of California, Tom was the University liaison to water agencies in southern California starting in 1987 (the beginning of the 1987-1992 drought). At the Irvine Ranch Water District (IRWD) Tom designed the first turf rebate program, use of recycled water for agricultural and commercial users, and implemented the first water budget tiered rate structure at a water agency. The combination of efficiency based water rates and conservation programs earned IRWD recognition as "the model" for rates and conservation by the US EPA (1996). Tom has been an advisor to the US Drought Policy Task Force (2002-2005), advised Sunset Magazine on water efficient landscapes, was the recipient of the first "Excellence in Water Conservation" Award presented by the California Urban Water Conservation Council (2000), and helped train water providers and the landscape industry in Australia during a game-changing 12-year drought. Tom is currently a Senior Planner at the Inland Empire Utilities Agency and a frequent visitor to the Ojai valley.
• MARY BERGEN first came to Ojai in 1957 when her parents bought a ranch on Creek Road. She learned to love the land by exploring the hills and canyons on horse and on foot. After graduating from high school, she became a marine biologist (B.A. Stanford, M.A. UCSB, Ph.D. USC). She worked on water quality and environmental issues as a consultant, researcher and staff biologist for Federal and State Agencies. In 2000, Mary moved back to the ranch in Ojai and permanently set down roots. She managed her family avocado orchard from 2000 to 2017. She has been on the Board of Directors of the Casitas Municipal Water District since 2010. She represents Casitas on the Board of the Upper Ventura River Groundwater Agency and is an alternate member of the Board of the Ojai Basin Groundwater Agency. She is on the Casitas ad hoc committee for State water issues.
• DAN BREEN is a Managing Partner at CFX Direct LLC, a financial service firm based in Chicago, and has been a licensed securities broker for over 30 years. Dan is an expert in assisting investors locate and realize liquidity for non-listed Alternative Assets. Currently he is part of a team charged with creating new exchange platforms for crypto-securities and other blockchain based securitized assets. Dan is a fourth generation Californian and has lived in Ojai for over 25 years with his wife Vicki Derby-Breen and son Zac. He is a current Director and former President of Siete Robles Mutual Water Company (SRMWC). Involvement in the neighborhood owned water company has given Dan the opportunity to thoroughly understand the water issues in Ojai and the people involved with those issues. He supervised the permitting, financing, testing and installation of the new well and filtration facilities for SRMWC. Currently he represents the Mutual Water Companies in the basin as President of the Ojai Basin Groundwater Management Agency (OBGMA).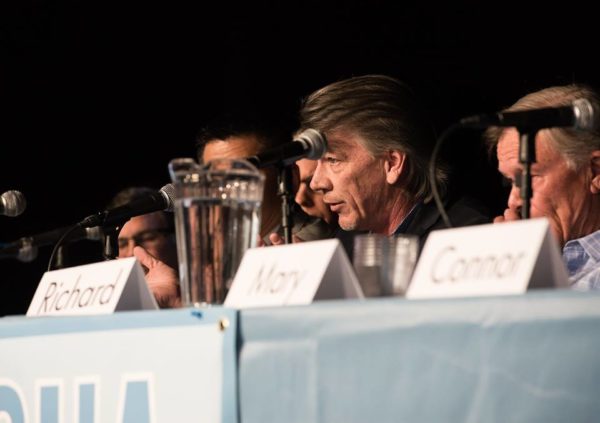 • RICHARD HAJAS has been involved in the management of water and wastewater for more than 40 years. HE has managed the operations and maintenance of two major water districts in Ventura County: Casitas Municipal Water District and Camrosa Water District, and has provided management consulting services to other local agencies. His water resource planning experience includes chairing the steering committee for development of the Calleguas Creek Watershed Plan, encompassing four major cities, thousands of acres of prime agricultural land and valuable wetlands in Ventura County. During his career he has authored several studies analyzing the costs and benefits of multi-million projects, such as development of the Conejo Creek Project, the largest reclaimed water project in the county; construction of a wastewater treatment plan and the acquisition of a sewer service district by the City of Ventura. Starting in 2007, he used his experience to assist the Ojai community effort to replaced the CPUC-regulated Golden State Water Company. He authored a feasibility study analysis of the acquisition, which became the basis for the eventual sale of the water company to Casitas Municipal Water District in June 2017. Now retired, Richard continues to serve on the board of directors of Ojai F.L.O.W. He most recently authored the "Cooperative Regional Approach to Improving Ventura County's Water Supply Reliability" as a member of the Ojai Valley Water Advisory Group. He and his wife Sandy have lived in the Ojai Valley for more than 40 years, raised two sons, and now have two grandchildren, who also live here. He has a B.A. degree in public administration and a Master's Degree in Public Administration from CSU Northride.
• CONNOR JONES is a certified permaculture designer and teacher with a lifelong fascination for ecology, anthropology, and traditional food systems. As a child he marveled at the wonders of nature in immersion with it and in small assembled ecosystems created at home. Later in life farming, and his love for ecology began to merge with the introduction to permaculture design. His discoveries led him to the Permaculture Research Institute of Australia at the age of 18 where he became certified to design and teach. Since then he has founded East End Eden a 10 acre family operated permaculture demonstration site in Ojai, California where he teaches regular workshops and offers mentorship opportunities through farm work trade positions. East End Eden is also a nursery for varied perennial crops well suited to the bioregion. Connor also has a permaculture design and consulting company that offers clients sound advice for improving their yields and land value through applied ecological design.
• BRUCE KUEBLER has a Bachelor of Science Degree in Engineering from UCLA; did post graduate studies in hydrology and public administration at USC, and became a Registered Civil Engineer in California. He spent his career as a water engineer with the Los Angeles Department of Water & Power, retiring after 35 years. During his tenure, he moved from technical studies of groundwater and surface water sources, water quality, and design of pumps and tanks to managerial positions dealing with all aspects of the Water System's operation. A significant part of Bruce's career was spent on environmental studies and legal issues surrounding the Los Angeles Aqueduct supply from Inyo and Mono Counties. His last job was Director of the Water Quality and Distribution Division. Bruce was appointed to the Board of Ventura River Water District on May 8, 2013 and elected in November 2013 and November 2016. He represents the District on the newly created Upper Ventura River Groundwater Agency. He lead formation of the Agency and is the Board's Chair. Bruce and Patrish, an OSA artist, enjoy Oak View, home for 19 of their 51 years of marriage. They have 2 children, 3 grandchildren, and a faithful Akita.
• ALEX KIM became the Managing Director of The Ojai Valley Inn in January 2015. Alex joined the Inn after a distinguished career in the hospitality industry that spans three decades and includes management positions at The Hyatt Regency, Hotel InterContinental, La Quinta Resort and Club, and The One&Only Ocean Club, Bahamas, where he was General Manager from 2009 to 2012. Prior to joining the Ojai Valley Inn, he was the General Manager of Meadowood Napa Valley. At the Inn, Alex oversees all aspects of management, including enhancements to the property since 2015 including the redesign of the lobby, the adult and family swimming pools, the historic Neff Lounge, the fine-dining restaurant, and the Farmhouse. Alex grew up in Seoul, S. Korea, and came to the U.S. to study hospitality at Florida International University. After graduating in 1989, he began his career as a Corporate Management Trainee at Hyatt Regency in Indianapolis, Indiana. In 1993, Alex became Director of Catering and Convention Services at St. Regis Bal Harbour, Florida. He relocated to California in 2000 to become Director of Food and Beverage at The La Quinta Resort and Club. Alex has been married for 23 years to musician and educator, Jai Kim. They have three children, Catherine, Isabelle, and AJ. In his spare time, he enjoys traveling with his family, collecting fine wines and dabbling in carpentry.
• BILL WEIRICK is currently concluding his first term as a member of the Ojai City Council. He comes to this position after a 20-year academic career as a university administrator and economics professor. He also has served for the past twenty years as part of the management team for a third generation family business managing a diversified portfolio of real estate assets in the Southern California region. Born in Long Beach as a third generation Southern Californian, his father's career in the petrochemical business led to relocations from California to New York, Louisiana, New Jersey, and Texas. Most of this time was spent in various locations within Louisiana. This laid the basis for taking an academic position in Louisiana after completing his doctorate in economics at the University of Wyoming. Dr. Weirick began re-locating to Ojai after retiring from his academic position in 2004. While serving as a professor and university administrator in Louisiana, Dr. Weirick was involved in capital projects programs, business research activities, numerous university/community partnerships, and both local and regional economic development activities. His published work focused on land economics and microeconomic public policy analysis. He also was involved in arts organizations, beautification activities, and downtown renewal efforts. Before assuming the City Council seat, Dr. Weirick served a Chair of the Ojai Building Appeals Board and was involved in supporting Ojai FLOW which led to an historic public buy-out of the local private water utility.