OQ Feature | By Jesse Phelps
Sax Ojai Avenue
---

Overture
Visitors and locals alike know that Ojai serves as home base for a stunning array of talented artists. On the musical front, singer-songwriters seemingly dominate the landscape (if it can be said that singer-songwriters are in any way "dominant" — = no offense to singer-songwriters). That said, you'll also find guitar heroes and piano studs, a banjo gal and, notably (if you'll excuse the pun), a group of (at least) four sublime saxophone players.
Walk downtown on a Sunday afternoon and you just might hear the sweet sounds of a tenor sax emanating ridiculous jazz runs from the patio at Majestic Oak. That's likely Jacob Scesney out front of the Mario Calire Quartet. Some nights, you might happen upon the smooth riffing of Rubén Salinas playing his tenor sax in Libbey Bowl alongside Eric Burden and the Animals or his baritone as a complement to any number of local heroes. Stroll into any musical or theatrical performance in town, and as likely as not, you'll be treated to the artistry of Jimmy Calire (though catching him on sax is a special treat). And if you're lucky, you'll find  Karl Hunter doing his thing at The Vine or the Deer Lodge — if he isn't on the road with Big Bad Voodoo Daddy.
That a town the size of Ojai could boast four saxophonists with this much talent may be the greatest proof yet that the valley is blessed with some magical woo power from deep in the earth. Everybody knows we collect seekers and painters. That's all well and good, but the reason
Ojai totally owns Carmel-by-the-Sea is our kick-ass horn section. (What you got, Carmel? Bring. Meet the Players.
Interludes
Karl Hunter
Associated Act: Big Bad
Voodoo Daddy
Superpower: That swing
If we're building Ojai's dream sax quartet, the latest comer to Ojai, having lived here the past 10 years, would be Karl Hunter. He's a must-see player when he appears at local venues. A multi-talented multi-instrumentalist, he's best known
as the lead saxophone soloist for popular, Grammy-nominated swing band Big Bad Voodoo Daddy.
A full member of the band — a distinction many horn players never get  to claim — for more than 21 years, Hunter credits his bandleader, Scotty Morris, with having the long-term vision to carve out a successful niche beyond the swing revival heyday of the mid-'90s.
"We weren't aiming for having the hit
of the week. We were aiming for a career," says Hunter.
In 1995, the Doug Liman film "Swingers" helped reintroduce the world to 1940s style and music. Big Bad Voodoo Daddy's "Go Daddy O" and "You & Me & The Bottle Makes 3 (Tonight)" became radio staples. The band parlayed that success into a 20-plus-year run of relentless recording and touring.
"We're always working," Hunter says. "We hardly ever take a long period of time off. We don't let it slow down."
After more than two decades, the band still includes six of seven original members. The rarity of that speaks to the importance of a pet phrase of Hunter's — "the hang" — the ability of a group to have a good time playing together, both musically and in life. "I feel super fortunate to have been in that situation," he says.
Hunter says the band is a family. All the guys have families of their own and their families hang, too. Hunter started his when he married his high school sweetheart, Christy, after reconnecting. They have three kids — Linus, 18, Rylan, seven, and Canyon (named for Matilija Canyon, where the Hunters made their home for five years), three.
A Santa Barbara native, Hunter originally moved to Ojai to join Christy and escape the hectic city life in Los Angeles. He'd discovered the town long before, when attending his first concert — jazz legend Nat Pierce at the Ojai Jazz Festival — in Libbey Bowl as a teen.
Known equally for his abilities to groove, to riff and to perform, Hunter's versatility allows him to, seemingly effortlessly, blend in or take charge with a swing ensemble on the big stage, a mellow trio in the bar or an ambitious jazz fusion group. Of his style, fellow player Jimmy Calire (profiled below) says, "Karl is a great player. Dogged. He's gritty. A great gift."
Fellow saxophonist Rubén Salinas (also profiled below) says Hunter has been a "huge influence" in his own playing. In a neat twist, his first live show was Big Bad Voodoo Daddy and Save Ferris at the Santa Barbara Bowl. "To this day, it's still one of my all-time favorite shows," says Salinas.
Jimmy Calire
Associated Act: America
Superpower: Being the Maestro of Soul
"I want to hear the voosh! I want to hear the power," says Jimmy Calire of the saxophone. "It's a power instrument."
Calire would know. The power, soulful stylings and ferocious nature of his playing, both on the sax and the keys, are the stuff of local legend.
Jimmy Calire is a familiar figure around town. Whether you see him at church, as a student, in front of a stage lending his musical talents to a play or up on it behind a keyboard or a saxophone, he's one of Ojai's most recognizable faces and prodigious talents.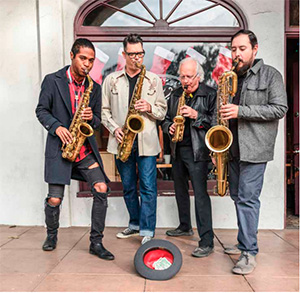 On the sax, he says he's essentially self-taught. While growing up in Buffalo, N.Y., "I was given a saxophone in the seventh grade and I started playing. I was really into it and I played for a couple years with rock bands," he recalls. "Then I put it down for 15 or 20 years."
He remembers watching a friend play and feeling like, given the talent he saw but didn't feel he had, he'd be better off sticking to the keys. And that gift is what landed him his gig touring with America during the band's 1970s heyday.
Still, he couldn't resist picking the horn back up in his late 20s. He was playing in a house band with Jay Beckenstein of Spyro Gyra at the time. He recalls Beckenstein telling him to "Get out of here with that thing!" when he broke out the saxophone.
That didn't stop him. But it took another friend watching him painfully play while biting through his own lip to get Calire to the next level by correcting his form. "It was just stupid," he says with a laugh.
After relocating to California, Calire says he finally took a couple lessons with the late jazz legend Gary LeFebvre.
Calire's recall is vivid. "He said, 'You know that (expletive) you do on the piano? Do that on the saxophone.'"
He did, and the rest is the stuff of Ojai legend.
He's considered, on some level, a mentor, influence and/or fun guy to jam with by each of the other guys in our quartet. The feeling is mutual. Calire claims to have written sax parts, and even whole pieces, with the other guys in mind. We await their debut.
Rubén Salinas
Associated Acts: Eric Burdon and the Animals; Noble Creatures
Superpower: The low-end theory
Rubén Salinas' smiling face is familiar to those in Ojai who enjoy good Mexican food, a taste of top-shelf tequila or funky horn playing. For more than two decades, his family ran the beloved and much-missed restaurant and tequila bar, Los Caporales. He could be found any starry Ojai evening mixing the finest premium margaritas in town. These days, he still plies those skills at the Vine if he's not playing a gig.
Born in Irapuato, Guanajuato, Mexico, Salinas came to Ojai as a kid and cut his teeth in the restaurant business from the word go. "Growing up, those were my 'chores,'" he says with a rueful laugh.
he credits his initial inspiration to explore music to family friend Phil Long. "He was one of the first reasons I started liking jazz, and one of the first reasons I picked up a saxophone," Salinas says. "He showed me Chet Baker and Gerry Mulligan, and then he showed me John Coltrane, and then he showed me Stan Getz and Sonny Rollins. He was my first delve into the music, and I loved it."
As a teenager, Salinas listened to ska and punk, and he saw a place for the horn in modern music. "It was something I could tell I could totally do and I aspired to be, so I practiced all time," says Salinas. "It was kind of my little therapy, and my time away from the restaurant. My dad called me on it. 'You're really doing all this stuff so you can get out of working!'"
But, says Salinas, it wasn't just way of avoiding childhood chores. It was a passion. He entered Ojai's music program, taking inspiration from Nordhoff's Bill Wagner. "Bill was really good at bringing everyone up to a certain level," says Salinas. "I paid attention to listening to what was going on around me. Now that's where I feel super comfortable. It's a musical conversation. It's not always about who's in front."
He says Calire also provided another model of how to succeed as a working musician. 'Growing up, I always had Jimmy as an influence," Salinas says. "He and John Cross were the go-to sax guys in town."
Like Hunter, Salinas studied under Garry Pratt at Cal State Northridge. "He always questioned our drive and taught me the importance of hard work," he remembers.
He's applied that, and carved out a smooth voice, not just as a tenor player but also as the Ojai quartet's beast of the baritone.
Salinas' professional break came when he joined the rock-soul band Noble Creatures, contributing the sound of his soulful tenor to their funky, melodic, Latin-tinged sound. Then, last year, he got a call from the wife of legendary singer Eric Burdon, who'd he'd been introduced to one night at the tequila bar by Kelley McDowell, wife of Malcolm.
The call was well-timed. The restaurant was closing and he had a decision to make. Should he move and continue with the family business full-time in another state, or should he focus on his music? "I opted for the music," he says.
The next day, he got Burdon's offer to audition in preparation to tour. That was March of 2016. By May, he was playing with the Animals in Australia. He says he talked with Hunter shortly thereafter. Having established that the musical fit was right, Hunter then asked the most important question: "How's the hang?"
The hang, Salinas replied, was perfect. "It's my musical comfort pillow, if you will."
Jacob Scesney
Associated Acts: Postmodern Jukebox; The Mike Posner Band
Superpower: Mind-blowing chops and precision
Batting cleanup in our Ojai sax quartet is its youngest member, Jacob Scesney. At 24 years old, he's already asserted himself as a force in the musical world as a member of the Mike Posner Band and Postmodern Jukebox (see YouTube now) and as an A-list sideman. His résumé includes tours or recordings with a Who's-Who of popular recording artists including JoJo, Kesha, HAIM, Fantasia, Kool & The Gang, blackbear and Rachel Platten.
His television credits over the past few years include gigs on "Ellen" (twice), "Dick Clark's New Year's Eve 2017," "The Tonight Show with Jimmy Fallon," "Late  Night with Seth Meyers" and "The Voice."
Though he says he used to prefer the alto, and can play virtually any instrument, he's an absolute titan of the tenor sax. He's often found demanding otherworldly phrases from his preferred instrument, a Selmer Mark IV — the same prized horn that Hunter plays.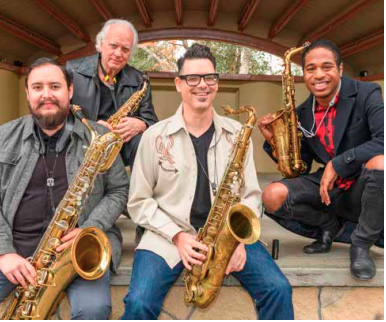 A lifetime Ojai local, Scesney came up through the town's public school system, attending Mira Monte, Matilija and Nordhoff. He credits several local figures as "important musicians" from his youth: "Jimmy Calire, Joey Horswell and Bill Wagner," he says. "I owe them. They were always so supportive. And they are all great people, too. It was important for them to show me that you can be whatever as a musician, and it doesn't matter if you're not a good person."
He credits Salinas with another very important inspiration. "When I was in fifth grade, I heard Rubén play saxophone and it made me want to switch over and play saxophone," he remembers.
That credit, says Salinas, is an honor.
"It's amazing to see how he's absorbed so much. Jacob is a technician. He's one of those guys who is constantly challenging himself, so it's really cool to see how far he's come. He's doing great stuff."
Calire echoes that sentiment. "Jacob has a different kind of gift. I try to just show him different guys. He's such a sponge," he says. "He sits there with his iPad, he listens, and then he can pretty much just do it."
Hunter, too, is full of praise for Scesney, saying, "That kid is something else. He's amazing. He goes off for a month or two, and then I see him again and (the growth is) exponential."
Scesney's playing segues delightfully between disciplined and technical and delightfully experimental, but it's always in the groove and soulful. He's also a ton of fun to watch, with an intrinsic knowledge of how to put on a show. He loves performing, and relishes making his horn a lead instrument.
"The spirit of music is fun and energetic. I think there's nothing cooler than when someone is nailing the music but also — like Bruno Mars or James Brown, —I love great performers," he says. "They have that showmanship but never sacrifice on the music."
For all his accomplishment at such a young age, Scesney remains remarkably humble and approachable. And he's grateful for the camaraderie with the other local sax men. "I mean, I owe all of them everything," he says. "Jimmy taught me so much. Ruben and Karl, they taught me so much, and they continue to teach me. It's the most beautiful kind of friendship you can have.
Encore
This is a foursome dripping with talent and soul. With Hunter on Tenor, Scesney on alto (if he doesn't mind putting the Mark VI down for a couple hours … or maybe we just have a couple tenors), Salinas on baritone and Calire on soprano, it's an Ojai sax quartet waiting to happen. Might we see such an event come to pass? Keep your eyes peeled and ears open, Ojai. Such a gathering would be something to experience. (But it's not happening in Carmel.)