LOCAL PROFILES | By Sarah Howery Hart
Interview with Oscar Dominguez
At the intersection of kitchen tradition and innovation
---
In 2010, a bit of Ojai's history was brought back to life when longtime Ojai residents, David and Mary Trudeau, opened Agave Maria's Restaurant at the South Montgomery Street location once inhabited by another popular restaurant.
The old home-turned-restaurant had been Antonio's for 30 years, and the Agave Maria's website states that the new owners were in part motivated to restore it by stories of "rock stars, cowboys, hippies and large family gatherings which took place for years — where legend had it that Antonio with his handlebar mustache and large personality would pass by with a shooter of tequila for the adults and a kiss on the cheek for the newest member of the family."
Agave's manager, the Trudeaus' daughter, Tracy Jeffares, says the name evolved because agave is the basis of tequila, and the restaurant is famous for its libations such as the Agave Margarita and Pixie Tangerine Margaritas. The second part, Maria, was selected for its status as a traditional Mexican name.
We began this interview with Chef Oscar Dominguez, creator of Agave Maria's expansive menu, by inquiring about his experiences learning and perfecting his culinary skills.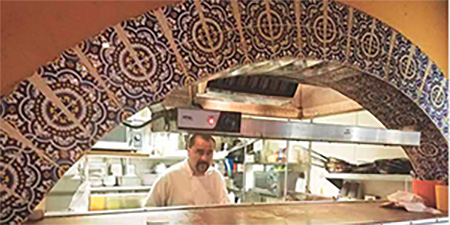 Ojai Quarterly: You've stated that you're originally from Encinitas. Is that where you learned your culinary skills?
Oscar Dominguez: Yes, back in my hometown I started cooking at age 16 or 17, when my mother taught me to cook. I got the essentials from her, then just started learning on my own. I learned more and more. Back then, I made the traditional fresh dishes from my hometown. Then, I started creating my own style.
OQ: Eventually you came to Ojai. Did you come here to work as a chef?
OD: I worked for many years in Ojai Valley Inn and Spa, and yes, I was the chef there. I studied with the executive chefs. The 17 years I spent with them, there were quite a few executive chefs with a lot of different ideas, and a lot of different cuisine.
OQ: You've mentioned that you get many of your ideas and recipes for the cuisine at Agave Maria's from Mexico.
OD: I go to Mexico once a month, and if I cook something good there, I try it in my restaurant. I experiment with foods down there. For instance, I saw some people doing carnitas tacos. I cooked them, too, did some onions, jalapeños, cilantro. It's spicy, but you want more and more and more.
OQ: Speaking of "heat," going spicier seems to be a trend over the past few years. Are you seeing this as a trend in Agave Maria's? Is this something you incorporate into your recipes?
OD: The more spicy, the more it gives a little kick. I think people around the world like spices. Some people use turmeric, we use jalapeños. Some people use curry powder, we have chipotle powder. That's like a Mexican curry. It's from Yucatan, and Mexican restaurants are using it right now.
OQ: There are many other trends in cuisine now, including gluten-free foods. Is that something you can offer Agave Maria's customers?
OD: Yes, and I can say that 80 percent of our menu is gluten-free. A lot of people want gluten-free food, and we provide that. When I do fajitas, and when I do rice, I can do it gluten-free. I use cornstarch instead of flour, and I wash all my spices to make sure there's no gluten there.
OQ: Many people are also vegetarian now. Can you accommodate their dietary preferences?
OD: From the beginning, when we opened the restaurant, I had six or seven recipes that were vegetarian. That's what I do, because I know in Ojai a lot of people are vegetarian, and we can provide that for them. That's one of the reasons I use veggie broth for my rice. That's why I use tofu and soy cheese. We can do a lot of things with tofu, and then I add a quinoa salad. It's very nice, amazing. That makes my restaurant different than other Mexican restaurants.
OQ: And, what about customers who are vegan. Can you also accommodate their requests?
OD: Absolutely we have foods for people who are vegan. I can make nachos with soy cheese. Some people who are vegetarian and vegan don't want to go to a Mexican restaurant because they think we don't have what they want and think they use a lot of chicken stock. I don't.
OQ: According to several "foodie" websites Coconut and Quinoa (Feb. 13, 2017), and the New Yorker, Daily Shout (Feb. 1, 2017) one of the noted food trends in 2017 is "taco fever." Why do you think tacos have become so popular?
OD: Tacos are very simple, have a unique flavor that everyone likes. If you go to Mexico and have a nice taco, everyone is going to love it. If you order tacos, you know they'll be good.
OQ: What kind of tacos do people order the most at Agave Maria's?
OD: Mexican taqueria style Carne Asada, Chile Verde, Chile Colorado. My specialty, I always use tri-tip for tacos.
OQ: What are some of your other specialties?
OD: I would have to mention the whole menu. I really like the whole menu. Everything is good. The Chicken Campestre is really amazing.
OQ: What do you personally like the best?
OD: For me, I'm very simple. I'm a meat lover, so my best thing for me is the Niman Ranch Ribeye.
OQ: What's coming up in the future for Agave Maria's? Are you making any changes to the menu?
OD: Usually, we change things every six to eight months, and I may just add a new salad and main entreé next. I'm going to think even more about the people in Ojai who are vegetarians and the Mexican people. My main goal is that everyone can enjoy the restaurant. Also, I'm using organic beans and organic rice. Organic is best.
OQ: You've opened a second restaurant, Agave Maria's in Camarillo, might you open another one, too?
OD: We probably will open another one, but only three. Three is the magic number.
OQ: And what about your personal plans for the future? A cookbook, perhaps, a TV cooking show?
OD: You know, six or seven years ago I was working with a friend who said "Why don't we create a cookbook?" I've wanted to do that for years, put down on paper the recipes I have. It's one of my goals. I have enough material to do one. And, if somebody asked me to do something on TV, I would do that, too.
OQ: With all of the time you spend creating recipes, planning menus and cooking, now for two restaurants, do you cook at home?
OD: No I don't! My wife, Norma, is such a good cook, I don't need to do that. I only cook at home three times a year. Thanksgiving, New Year's Day, and usually Fourth of July when we have a barbeque. (Agave Maria's, 805- 646-6353; 106 South Montgomery Street, Ojai, and 710 Arneill Road, Camarillo, 805-383-2770)