LOCAL NEWS | By Rick Goeden
Ojai Swimmer Takes High Point Award in Southern California Championships
---
Two of Ojai's finest U.S. Masters swimmers just returned from the 2018 Southwest Masters Zone Championships, which hosted approximately 450 swimmers and 55 teams, all competing at the newly refurbished Mission Viejo Aquatics Center.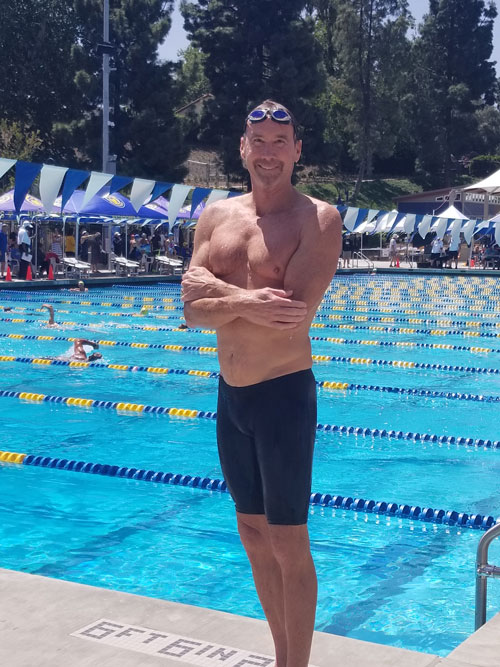 Ojai swimmers Bob Ward and Ken Umholtz were each on a mission to improve their personal times and to compete against some of the best swimmers in Southern California, Arizona, and Nevada.
Good competition in all age groups always makes for a challenging weekend. Bob Ward, competing in the 55-59 age group, started off the meet with a 1st place finish in the 50-yard Breaststroke, then continued to dominate his events with 1st place finishes in the 200 Intermediate, 50 Fly, 100 Breast, and 100 Fly.
Ken Umholtz, competing in the 65-69 age group, captured the 5th place in the 100-yard Backstroke. Ken continued his competition with 9th place in the 100 Free, 4th place in the 100 Intermediate — his meet best, and 8th place in the 50 Free, and finished with a 5th place in the 200 Back. Ken said about the meet, "I particularly value the encouragement and technique advice that we swimmers, and coach share with each other. On a personal level, I was pleased with my performance, and have a better idea in how to prepare for the California Senior Games in June."
Bob's outstanding performance earned him the high point award in his age group. The two-man team placed the Ojai Masters Men's Division 16th out of the 50 clubs entered in the meet. Congratulations to both Bob and Ken for a stellar performance. Ojai Hub asked Bob how he felt about the meet,
"Mission Viejo has been the epicenter for Southern California club swimming for 40 years. My ability to achieve success at a meet of this caliber is directly attributable to Rick Goeden's Master's program and the high quality of athletes who train at the Ojai Valley Athletic Club."
When asked about his most memorable moment, Bob said it was helping a 95-year-old woman onto the starting block for the 50 Free. She gave him a wink, then nimbly dove off. "That's the thing about Master's swimming…last one alive wins!"
Both swimmers train with Coach Rick Goeden at the Ojai Valley Athletic Club.