WATER NEWS | By Keila dos Santos
How does the "Three Sisters Plan" hope to solve Ojai's Water Crisis?
---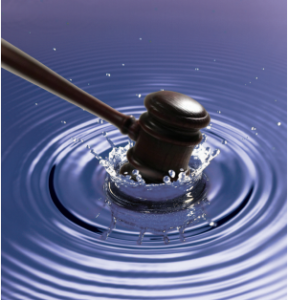 With the largest wildfire in California History & Stage 3 Drought Conditions resonating through the valley, the topic of water is hardly a new topic. Despite many iterations of oversight regarding this the crisis, the issue remains with no clear resolution in sight; until now.
Volunteer citizens & water experts have finally developed a proposal that could potentially resolve this pressing issue. But what does this plan entail for the people of Ojai? And, how will its effects resonate through our community & that of the local area? Here's what the OVWAG wants you to know:
What is the Ojai Valley Water Advisory Group (OVWAG)?  
The OVWAG is a four-member group of volunteer citizens who have been meeting since May 2017 to address the ongoing drought in the Ojai Valley. Members are Richard Hajas, Peter Thielke, Larry Yee, and Rosalie Zabilla.
What is the OVWAG Proposal?
The comprehensive, detailed document—also called the Three Sisters Plan—provides a plan for creating a long-term, more diverse and reliable water supply for the Ojai Valley. It posits a way to have a more secure water future without perpetually living with the impacts of being in drought stages 3, 4, or 5. Authored by Richard Hajas—former general manager of Camrosa Water District and longtime resident of the Ojai Valley—the plan can be found at ovwag.org.
What are the key elements of this proposal?
The plan proposes the establishment of a cooperative, regional water network among three water agencies: Calleguas Municipal Water District, the City of Ventura, and Casitas Municipal Water District (CMWD). Each agency would be provided with what it needs in terms of water supply and storage, which could not be done individually.
A pipeline would be built that connects State Water Project (SWP) water in Camarillo to Ventura. Modifications to existing Ventura and Casitas systems would be made to bring this water from Ventura to the mouth of the Ojai Valley. The three agencies would share capital costs of these pipelines, pump stations, and other facilities, and would create a Joint Powers Agreement to manage the allocation of the water.
With the proposal pooling water resources of Casitas and Ventura, about 5,000 acre-feet of SWP water would annually flow into the new network. This would effectively reduce the demand on Lake Casitas, which would then fill at a faster rate, and begin to resemble more of what its original intent was as backup storage for the region.
Calleguas would be guaranteed a credit of up to 30,000 acre-feet of water from the lake should it suffer a catastrophic cessation of supply from its one pipeline, which is in a major seismic area. The importance of this safety valve to Calleguas's future strategy cannot be overstated. In exchange, Casitas would also be guaranteed the same amount of water from Calleguas in the event of an emergency. Thus, costs for the infrastructure would be shared, with mutual benefits.
No SWP water would be pumped into Lake Casitas, and lake levels would remain dependent on rainfall. However, under this plan, less water would be taken, so it is projected that the lake will fill back to a minimum level of 125,000 acre-feet in approximately 10 years.
How long will it take to implement this proposal?
We estimate that it will take 2-3 years to plan, and 2-3 years for construction. Full implementation will take 10-15 years when Lake Casitas reaches 125,000 acre-feet.
How much will it cost?
Capital costs may be high, but will be shared by the three agencies. Once each agency commits to the proposal, such costs can be more definitively estimated by having the three agencies commit to a feasibility study.
Will my water bill go up?
SWP water will cost more than locally produced water. However, the costs will be distributed over a much more populous service area, thus driving down costs. Additionally, SWP only needs to be purchased when needed. We are currently trying to develop a better estimate of how water bills may be affected. A question for all of us is whether we would rather have slightly more expensive water—or no water.
Isn't state water unreliable?  In 2014, the state was only able to provide 5% of the allocations.
State water availability does fluctuate, depending on rain and snowfall in the northern part of the state. But the probability of the SWP to provide water over an extended period of time is high. Tapping into the SWP is like diversifying an investment portfolio. It gives the City of Ventura and the Ojai Valley another supply option for meeting their needs. Also, at this point in time, there are just not a lot of other options.  
Is there any rush to implement this plan?
YES! In the Ojai Valley, as Lake Casitas quickly approaches 30% full, Stage 4 reductions will be mandated. If and when the lake reaches 20% full and Stage 5 is implemented, all outside irrigation will be suspended, with water only available for health and safety.
We also know that Calleguas is exploring other options to secure an insurance policy for its 30,000 acre-feet. If they succeed in this quest, interest in a cooperative plan with Casitas and Ventura may no longer exist.
We believe that now is the time to act before we lose this opportunity. In the future, if CMWD had to pay for a connection to state water by itself, it would probably be prohibitively expensive.     
What can I do? How can we help?
Now that the proposal has been presented to all key parties and released to the public, water officials must know that there is an urgent need to make decisions on how best to move forward. OVWAG is currently working on how to effectively lead and organize public pressure to let the General Manager and elected Board of Directors of Casitas Municipal Water District, in particular, know that now is the time for action and cooperation.
Find Out More by Checking Out The Lay Person's Guide to Water Rights published by the Water Education Foundation.
You can find out more by going to the OVWAG website or visit their Facebook page to stay tuned to the latest, most viable ways to become engaged and involved.