ARTS & CULTURE | By Bret Bradigan
Energy as Art: A Conversation With China Adams
---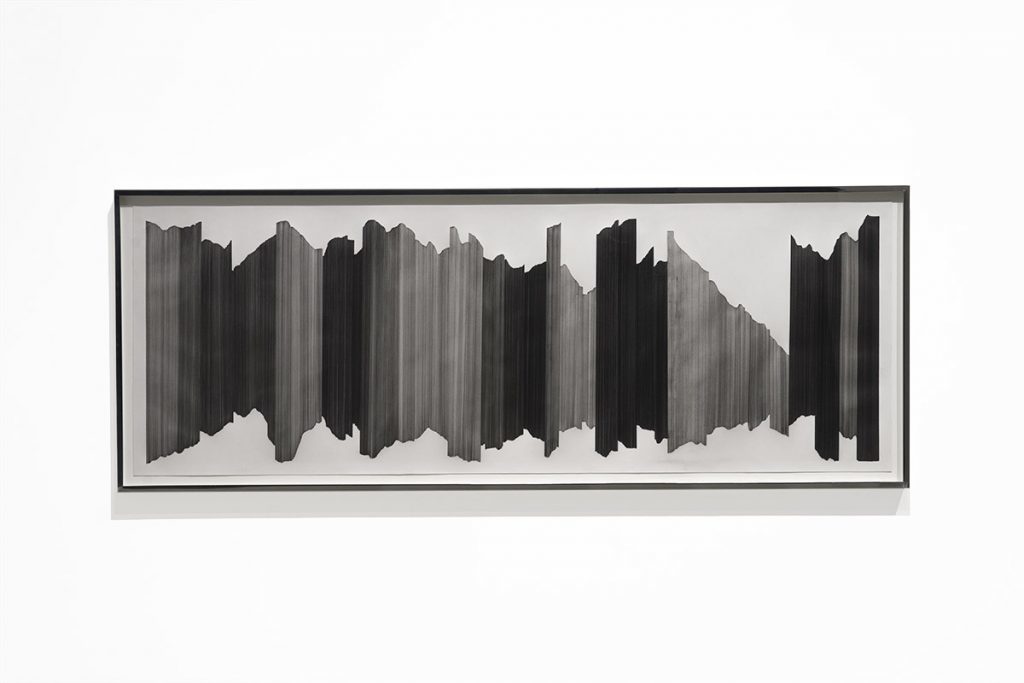 China Adams was first introduced to conceptual art as a student, and "was awed by the possibility that ideas could stand alone as artworks. That seemed to me the ultimate form of creative freedom," she said. Now she's combining both her work as a masseuse and a visual artist in an unusual project to be displayed/staged at the Porch Gallery.
Opening this Thursday, April 26, at the gallery on 310 East Matilija Street, China Adams will be collaborating with 80, mostly Ojai-based artists, on "Massage-Generated Energy Drawings." The exhibit runs through May 15th. According to the gallery, each day Adams, a licensed masseuse besides being a visual artist, will perform four hour-long massages on the artists. A bell steward will ring a bell randomly three times during each massage section. At the sound of the bell, the massage recipient will be asked to immediately vocalize the first word that comes to mind. At the end of the day, Adams will compile the 12 words and incorporate them into a drawing that includes all the day's words.
The drawings will then be notarized by Heather Stobo, gallery co-owner and a Notary Public.
Adams has orchestrated two other group meditation projects. In 2012, "At Boxo Projects in Joshua Tree, I had the opportunity to work with a large group of people. We explored filling a space with positive energy generated through collective meditation," she said. "Then again, in 2014, I participated in "Perform Chinatown: Chaos Reigns. Our group, which had participants cycling in and out, meditated with the purpose of creative positive energy to fill the space during a period of five hours, from 5 p.m. to 10 p.m."
Adams spoke with Ojai Hub about this project. Here's the interview:
Q. How did you come up with this idea?
A. It dates back to 1995, during my "The Official Stitch and Hide Procedure" show. I have always had a discomfort with possessions. It's challenging as an artist, because you are always making stuff, accumulating stuff. I enjoy making things, and that's been the contradiction throughout my career, sort of feeling "Why am I making more stuff?" The whole idea of energy as an art form is getting rid of the object. Amit Goswami, a quantum physicist, who had done studies with meditation to prove the existence of God, not a paternal, personified God, but a universal consciousness that he referred to as "God." The upshot of his study was this: two meditators concealed in isolated chambers could transfer brain signals from one another without verbal communication. In essence, brains could be correlated and he could show quantifiable evidence.
Also, the art world has become so transactional … I'm trying to take that back and model it more off  a '60s and '70s paradigm of collaboration.
Q. Were you inspired by any other performance pieces?
A. It's about taking it out of realm of product-making. Charlie Ray was teaching at UCLA when I was there. He said, "Rather than look to other people's art, look at things that interest you." That's a really fascinating idea. With this project, there's some trace of this. It really has helped me resolve that duality, of being a maker, working with my hands, but not someone who wants to create a lot of products. The question is "How I can really approach art-marking beyond object-making that feels really authentic to me. Now, I don't want to critique object making … I get how relaxing it can be to use your hands.
Q. This is a major time commitment – four one hour-long massages each day! How will you keep up your energy? Or is this something that you anticipate will be exhilarating?
A. It is a major time commitment, but because I teach, that leaves me with some time off. I've been massaging over the past year, and have worked shifts at a high-volume massage center. I've been treating it like an endurance project. Often times I go from 4 p.m. to 10 p.m. with no breaks. I've always been an athlete, particularly long-distance swimming. My experience — doing any kind of performance thing — the really cool stuff creates a container or situation that has its built-in stressors and it's not totally tidy. That's kind of building on my perfectionist tendency. When I was younger, I demanded that everything had to be nailed down and perfect. A mentor told me that there are art angels. If you go through an open door with real intent, things kinda have a way of happening. If you go at it with earnestness and intention, it weirdly goes together. That's where the faith comes in.
Q. Given the increased stresses in the world, the noise, the scandals, the reality-show unreality, do you expect that to manifest in the words, and then the drawings? Or do you expect, given the intimate space between you and the subjects, the words, the drawings will reflect a more measured, contemplative space?
A. For me, the current political situation seems horrendous. I thought at times, as we all have, "What can we do when it all seems so out of hand, so big?" I know the way I am most served, is doing anything positive, in ways that bring out my strengths. One way I can try to do my part … it sounds a little goofy, but it's amazing how quickly our little actions can bring bigger actions. The whole thing of, if you're kind to one person, that person is kind to the next person. It passes down the line. This is the language I am most comfortable in speaking.
Q. Do you think that Ojai as a community, a geographic space, will manifest itself in some way in this project?
A. The long-range plan is to do this in other places … so I expect that the artists will reflect their community. (Gallery owners) Heather (Stobo) and Lisa (Casoni) know a lot of artists … that'll be their part of helping arrange it … most of them are Ojai-based artists – some fine arts, some writers. The idea of keeping it local, felt like I wanted it to have a spirit of the community. It's connected to the whole Dada of it. I don't know any of them particularly well, so there's a lot of unknowns and an incredible potential for richness, or it could all go screwy.
Q. How long have you been a masseuse? When did it occur to you to think of massage as an art medium?
A. I've only been a masseuse for a couple of years.  It first came together for me after teaching at USC for ten years. When I was growing up, my dad quit teaching and taught himself how to build houses — he learned to access either his hands or brains to make a living .. that saved us. My mom was a massage therapist; I was developing a resentment against teaching … often feeling so insecure. I needed to get another skill, so that I won't feel resentment.
I was seeing a connection to a previous meditation project I was doing, and wanted to use it as part of that exploration. Start down one path and see "Wow, I see how this is going to work in another way!" I've also done yoga for many years … I like the idea of energetics contained in our bodies. Massage in this country isn't as accepted as it is in other places as this incredibly healing modality."