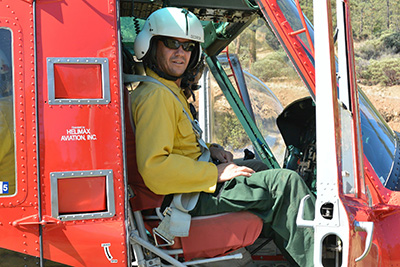 Story and Photos by Bennett Barthelemy
With gear in dry bags stuffed into his backpack, Yonni pushed through the barrier of reeds that choked and surrounded the shallows of yet-another pool. The reeds were also in flower so he was covered in yellow pollen that found its way into eyes and ears.
The final two days of the four-day backpack are trackless, so you follow along the Sespe River's cut, a deep and narrow furrow riddled with waterfalls and scattered with larger than house-sized boulders. Where the pools are deepest, he would egg-beater his legs water polo-player style to move forward because he had to lift his camera gear high bove his head to keep it from getting wet. Then the reeds at the far side would have to be battled again.
"I love scrambling the boulders, and swimming with a 60-pound backpack is a fun challenge too  – but fighting through the reeds for several hundred meters at the edge of each pool — that were not even a heads-width apart — was completely exhausting. It was some of the toughest hiking I have ever done."
These words came from the man who had spent his late teen years with an Israeli special forces unit deep in conflicted Lebanon, many years in his 20s and 30s wandering alone for months at a time in the deepest jungles of South and Central America, running his own company Peaceful Edge Adventures (peacefuledge.com) and guiding trips into the Sinai and exploring high altitude mountaineering peaks in Mexico and Nepal.
The words definitely gave me pause for thought. Maybe I won't do this hike alone…
Yonni now spends his far-from-mundane days based in his office in Ojai, but I get the sense he doesn't sit there much. He takes care of a plethora of compliance challenges surrounding minerals and geology across the two million acres of the Los Padres Forest lands.
A (well-respected) geomorphologist by academic training, his workload includes but is not limited to: overseeing some 16,000 acres of checker-boarded oil and gas leases that are bounded by the Sespe Condor Sanctuary and the Wild and Scenic Sespe River; reading through lawyerly papers and advancing projects to protect the environment while following federal laws and regulations and navigating between the industry, the public and environmental watchdog organizations; closing abandoned mines for public safety; surveying damaged roads by mountain bike; jumping into a helicopter to recon after a fire as part of a BAER (Burnt Area Emergency Respond) team to assess and plan mobilization of recovery efforts with the other 'ologists (admittedly his favorite part of the job); or staying up a few days straight around the clock at the end of a weeklong bender during a fire as a resource advisor and fighting diplomatically to engage an incident commander trained as a firefighter to incorporate the needs of endangered species into the days' war plan so the Forest Service doesn't get sued yet again…
I met Yonni for coffee after he had already gone surfing. I found out he is also raising two young daughters. He seemed surprisingly relaxed for a man with such a full plate. I imagine his practice of tai chi for last 20 years helps… During our conversation he told me of a book, "The Monk and the Philosopher," that I needed to read. "It explores some of the big questions of life, like; Do science and Buddhism complement one another or do they contradict one another? Can Buddhism fill in the void that was left behind by western philosophy? etc.
"The book is written about the father, a famous French philosopher, and his son, who spent many years in academia — a social scientist who drifted in to Buddhism, who then turned into a monk and became one of the Dalai Lama's right hands." I think this speaks to Yonni, but he would be this same person, in fact some might call a master of contradictions, as he seems to have realized the mercurial art of living several lives in the space of one – and it would seem simultaneously even – to have covered so much ground.
It seemed common for Yonni to invest all his energies into something and then to fall off the map for a while. After his military service he found himself wearing fancy suits on a cruise ship and traveling the world for a year  — working undercover (post-Achille Lauro) as an anti-terrorist specialist — which meant posing as a high-roller.
Then there were the long stints, alone, in remote jungles where survival was often realized with a trading of smiles, quick thinking, and being able to engage and manage the challenges of an environment that could only be known through experience. Yonni was truly creating his own maps as he went, in charge of his own destiny, in a world that was quickly relying on enhanced technology and greater creature comforts.
It was in the year 2000, while taking a leave of absence from his PhD. Program at USC, Yonni decided to explore Mexico, Belize and Guatemala. With only a small amount of dollars left, he realized he should start thinking about getting back. So he canoed from the jungles of north-eastern Guatemala (area of Tikal) down Rio Usumacinta back to Mexico where he experienced one of the most extreme adventures of his life; spending two month alone in the jungles of Guatemala and Mexico in complete survival mode. I listened intently as he retold the adventure for me.
"I needed a break from normal life and to clear my mind in wilderness — then it was time to get back to the States with what little money was in my pocket. My canoe trip started from a small village named Sayaxche on Rio de la Pasion, which flowed into Rio Salinas, which flowed into Rio Usamacinta. I went around to native villages, found a canoe I liked, but didn't speak the local Mayan dialect — there were a few tiny words we both knew. I was trying to give him $40 U.S., but he wanted Guatemalan Quetzals so I was trying to figure out how to explain the difference in world currencies to a native person who barely speaks Spanish. 
"Eventually he trusted me and accepted my U.S. dollars. His neighbor was a woodworker and made me a 
paddle. I talked to the locals about distance and hazards but most they know is only a week down the river, because that is as far as they had ever been. Waterfalls, pass on left, one man told me. I had no clear idea where I was heading but took a sack of potatoes, and rice and fishing gear. I found a beach each evening, cleared it with machete. Then hundreds of monkeys would start howling as the sun goes down. Sometimes they throw sticks at you. Bugs impossible to describe when the sun goes down, too. Each evening I had to make a fire, cover every inch of my body with clothing and with smoke blowing on me while cooking dinner in the 90+ degree and very humid temps. The first few weeks I met no one. Then toward the border I started meeting people. The first person I saw was a man chasing an iguana-sized lizard. He invited me to dinner and we ate the eggs inside, a delicacy there. I then realized what the tons of tracks were every morning around my tent, they had been these iguanas checking me out. Crocodiles… saw them on the beaches, they would run into water and go right under my canoe.
"I finally got to an army post at the border. They brought me in and took all my gear apart. They were baffled, they might see locals but never a gringo and this was not long after the Contras and the civil war. They played tough. They were holding Galil, Israeli made guns. So I told them stories from my military days and they got a bit friendlier. I then showed them how I could take apart a gun with my eyes closed in a couple minutes and I became a kind of hero for them and they all wanted to have their pictures hugging me.
Then there was the waterfall … instantly all my gear was in the water as my canoe flipped over. I caught my photography bag and jumped to save the canoe. It was under a rock in a rapid. Out of nowhere in the jungle came a few guys who helped me. They invited me to their village and I had to dry out all my camera lenses and try to get my gear back. I spread the word to all the children that if they could retrieve my gear I would give them a prize. Slowly, but surely, they dove into the river and appeared each day with a thing or two, my tripod, a sandal. Eventually after of a few days I got most of my gear back."
Today Yonni spends much of his time in the "jungles" (both literally and metaphorically) of the Los Padres, trying to walk the difficult tightrope that exists to satisfy all users of the National Forest along federal mandates to follow. His function requires a workable balance of time outside on the ground – sometimes in the air – and near-constant mediation done as a scientist and diplomat working with many diverse groups, thus providing the constant challenges, both mentally and physically, that Yonni seems to thrive with and never tires of engaging.