Vijay lyer Brings Diverse Virtuosity to Music Festival
by Jesse Phelps
Even according to him, Vijay lyer might not seem like the most obvious choice to direct the 2017 Ojai Music Festival. But he's the right one at the right time.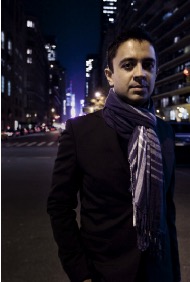 Known widely as a much-honored, world-renowned jazz piano player, Iyer nevertheless defies any easy label. In his breadth of study and musical accomplishment, he's an embodiment of diversity, making him, perhaps, the perfect man at the perfect moment for a festival that always seeks to challenge both convention and its audience.
An American born to first-generation Indian immigrants, who studied violin practically from infancy but would end up earning fame as a pianist after earning a physics degree and a Ph.D. in the arts — focused on music cognition—Iyer has a deeply cerebral understanding of music.
The program he's assembled, awash in eclectic cultural reference points, promises to move the mind.
Iyer shared his thoughts on that and many other things with the OQ in an exclusive, expansive 50-minute interview in which he consistently showed his level of care, not just for the festival and for music, but for the art of conversation and the need for connection in what could be considered a moment of worldwide culture clash.
"Cultivating an interest in others that might come from a different set of life experiences than you do can help you make sense of the world in a different way," he said, "that's a little bit more enlightened and tolerant."
It is, perhaps, not insignificant that the festival's artistic director, Tom Morris, chose a person of color to curate the music for 2017. Asked if he sees a potential to convey something about inclusivity through listening, Iyer was typically eloquent.
"Multiple realities are being bridged somehow, through this process of music-making and sharing time through music," he said. "This reaching across any facile notion of difference so that it actually becomes a moment of conjuncture. Really what it is, is a kind of bridging of experiential agency. It's like a ritual of communing that's beyond dialogue. It's actually something older than that."
Morris originally approached Iyer about helming the festival in January of 2015, Iyer said. "He kind of just rode up on me out of the blue. I had collaborated with ICE and with (2015 musical director) Steve Schick on a project we are actually going to do here. Tom must have done some espionage to find something out about me."
They met in New York. "I couldn't quite believe it that he was willing to put me in a position of such importance. The more I talked to him, the more I realized he was actually genuine and well informed about what could be possible."
That year, Iyer came to Ojai for the first time to watch Schick's process. "it was the perfect point of contact for me because it was all of my friends on stage and there was a certain sense of, I felt like this was within the realm of what I do, and I could imagine it," he said.
Iyer said it was "awe-inspiring" to see "the amount of incredible work" put in by Schick that year. "As a performer, as a conductor, as a curator and as a speaker — just as this tireless, enthusiastic force that generated all this energy and galvanized people. He set the bar really, really high…to match that level of commitment and sincerity and rigor. The model I observed that year has helped me figure out how to go about it this year with all of my collaborators and friends, and esteemed colleagues and elders."
Two of those friends, percussionist Tyshawn Sorey and Schick, are featured prominently throughout this year's edition of the festival, and will play instrumental roles. It's no coincidence, said Iyer, that he should delegate to both a conductor and a percussionist.
"Is rhythm the center of music? Yes. The answer is yes," he said. "The way the drummer functions is similar to the way a conductor functions, in an ensemble. (As a player in that ensemble), you just listen and join in and get with the groove."
He said that Radhe Radhe (Saturday evening, Libbey Bowl) is a good example of how the two can work together, taking turns at the helm. "Steve is the conductor and Tyshawn is one of two percussionists, and there's a piano in there, too. There are moments where I ask Steve to kind of cede control to Tyshawn. There are other moments where we have to have the visual."
Asked what else he'd like to highlight in this year's festival lineup, Iyer said it includes a "fantastic" slate of female artists, including Jennifer Koh who will perform an Iyer-composed violin concerto Thursday evening at Libbey Bowl, and a solo concert on Friday night (Late Night Concert, Libbey Bowl).
Iyer reserved some of his highest praise for "the fantastic vocalist and composer, Jen Shyu" (Friday Daybreak Concert, Besant Hill School). "She," Iyer explained, "is this one-of-a-kind, complete badass. She's one of the greatest improvising vocalists I've ever heard, in terms of precision and conceptual rigor (who is) immersing herself in these different musical languages and traditions, and really embodying them authentically — learning all these different languages and cultural traditions — and then … actually creating something new, informed very profoundly by all of those disciplines. Her work is really like nothing else on this planet. It's really inspiring."
Saturday, notably, will open and close with performances powered by women. The Besant Hill School Daybreak Concert will feature Nicole Mitchell, whom Iyer called "a wonderful artist, one of the great flute players of today and a fantastic composer and improviser." The Late Night Concert at Libbey will feature what he termed a "haunting and powerful piece," titled "As Yet Unheard," by composer Courtney Bryan.
For those interested in where his jazz background might play most eloquently into the festival's schedule, Iyer said he'd recommend the closing day's festivities.
"The whole day on Sunday, particularly because of the appeal of improvisation and real-time creation with all three performances," he said. "In the morning it's this trio of titans, legends of experimental music — Muhal Richard Abrams, George Lewis and Roscoe Mitchell" at the Ojai Art Center.
The afternoon session at Libbey will feature Iyer on piano, Zakir Hussain, who Iyer describes as an "incredible tabla player and world music pioneer," saxophone from Rudresh Mahanthappa and a return performance from last year's Saturday night centerpiece, Indian Carnatic vocalist, Aruna Sairam.
"Particularly, because of some of the reference points that Rudresh and I share, and Zakir's role in American music, I think there'll be some very clear connection to the legacy of jazz and the language of that music," said Iyer.
Bringing an end to the festivities on Sunday night, Iyer will perform with a sextet featuring bass, drums, two saxophones, a cornet and a flugelhorn. An appropriate level of brass, perhaps, to close a festival directed by the man who said, in a separate interview with festival staff, "I like to insert myself in places where people might not necessarily imagine I belong."
What's more likely is that, by the time Iyer is done with it, listeners to the diverse rhythms and voices of the 2017 Ojai Music Festival may find that what belongs has expanded for the better.