Vegetarian Chef Randy Graham
On Cooking, Catering, Teaching and Writing Cookbooks
by Sarah Howery Hart
In Chef Randy Graham's "Ojai Valley Vegetarian Cookbook" he reminisces about becoming a vegetarian in the 1970s, and, in that era, having to explain why on earth anyone would make such a choice. He recalls that in spite of telling inquirers he wanted a healthier lifestyle, in return he was often told that he was "weird."
Today, it's a different story.  Now, Graham is a sought-after personal chef, caterer and lecturer, and an author, with his latest cookbook, "Ojai Valley Gluten-Free Cookbook" just released.
We caught up with Graham at Java & Joe coffeehouse for a conversation about his food, his culinary philosophies, and his history with cooking, which he says began when he was a latchkey kid.
Ojai Quarterly:  You've said that being a latchkey kid is the reason you began cooking.  How old were you, and how did that come about?
Randy Graham: It was the late 1950s, and my brother and I would come home from school and fix snacks for ourselves before my mom got home. I knew she was on her feet working six days a week, so once, when I was in eighth grade, I got dinner started for her. It was something like tomato soup and grilled sandwiches.
OQ:  What was your mother's reaction?
RG: She came home and almost cried.  She was so grateful, and it was then that I discovered that I loved not only cooking, but also pleasing people. I started reading cookbooks, and I've been developing my own recipes since then.
OQ: What was the first recipe you created?   
RG: I wasn't a vegetarian back then, so I would make hamburgers. One day, we didn't have any hamburger in the house, but we had cheese and sliced olives, so, I made cheese enchiladas. That was my first recipe, that's how my recipes got started.
OQ: You didn't study to be a chef, but it was while earning your bachelor's degree in Political Science and master's in Public Administration that you became vegetarian. What was the reason, and was it difficult for you to switch from a meat-based diet?
RG: I was going to school full time and working on campus in one of the libraries. Three other people working there were vegetarian.  I asked them why I should become a vegetarian, and they had two approaches. First, ethics, animal rights, and second, for health reasons. My own dad was diabetic, and my grandfather died of heart disease, and my friends said to give up meat, eat a plant-based diet, you'll live healthier and longer. I'd been a starving student for so long, anyway, mainly I just ate beans and rice with little meat in my diet, so, that day, in August 1975, I became a vegetarian, cold turkey. It made sense given my family's health background.
And, I wholeheartedly believe in the ethical treatment of all animals.
OQ: You graduated and went to work in a career unrelated to cooking.  Did you continue cooking?
RG: I worked for the state and local governments in the Sacramento area for 33 years. I loved what I did, but even when I first started working I still hoped I could someday cook. As I got further along with my job, during meetings on Fridays, I was making grocery lists for dinner on Saturday night with friends.
OQ: And, eventually, you did become a chef, and a cookbook author, caterer, food blogger and columnist, and as it turned out, all in conjunction with moving to Ojai. When did these life transitions occur?
RG: I retired from the government early at age 58 and consulted in finance for a few years. But my wife Robin and I have good friends here in Ojai, and we decided to downsize, simplify our lives, and we made the move. My wife said, "What are you going to do now?  Why don't you write that cookbook you've been wanting to write?" She also suggested that I start blogging, and I did. Then, I went to the local newspaper and said, "You need some vegetarian recipes in the paper in this town." I sent in a couple, people liked them, and the paper started printing them on a regular basis. That helped me reinvent myself. I now had a focus.
OQ: You've had that new life and focus for a number of years, now, and have many experiences cooking all types of food for others, but what do you, personally, love to eat?
RG: So many things! I love Mexican food and Italian, and I have my own twist. Being a vegetarian and healthy chef, I like to make fresh gnocchi, then, over it, burnt butter sage sauce and cheese, like Asiago.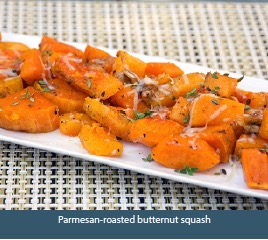 OQ: You speak frequently about comfort food.  Is it really possible to create vegetarian comfort food?
RG: You can, for example my Phenomenal Potatoes. It's like potatoes au gratin, with heavy cream and cheeses and herbs. My recipe takes potatoes to a new level.
Another comfort food recipe, is my Vegan Reuben Sandwich. I make my own vegan pastrami, and I also make my own secret sauce. The sandwich is topped with homemade sauerkraut and good quality swiss cheese, like Gruyere. I use light rye bread with caraway seeds. This sandwich appeals to everybody, not just vegetarians.    When I teach cooking classes this is one of the comments I get, "I didn't know vegetarian food could be so good."
OQ: An article in Bon Appetit magazine (December 23, 2016)  discusses culinary trends for 2017, including the popularity of cauliflower. Do you also see cauliflower as a trend?
RG: I think cauliflower should become more popular. Its phytonutrients are very nutritious. It has essential vitamins and minerals, is low in calories, and is inexpensive. What could be better? My new cookbook, "Ojai Valley Gluten-Free Cookbook" features a cauliflower pizza crust. One of the secrets is getting the crust thick enough so you can pick it up like piece of pizza.
OQ: The use of nutritional yeast is also predicted to escalate in 2017. What's your opinion on that ingredient?
RG: I hope so. Nutritional yeast is a good source of complex B vitamins and has 18 essential amino acids, 9 of which the body cannot make and must be ingested. I use it quite often because it's nutritional, and it adds super flavor, especially to vegan recipes. I use it to make a vegan brown gravy, and people will always ask, "Where's the meat that you made this gravy from?"
OQ: There are trends and customs we adopt from other countries, too, including the baguette, for which you recently posted your own recipe. Do you think the French custom of the daily baguette will catch on here?
RG: In North America, we've always had a grain, flour, bread component in our diet. I think baguettes have always been here for foodies in this country. But for the French, this is not just something they make, it's part of their enjoyment of their meal. Breaking that bread is very French, very European, it makes the meal so much enjoyable, and it's fun. Baguettes help round out the whole meal experience. You're breaking bread and sharing it.
I think we will begin to include more bread, baguettes specifically, into our meals, because they're simple, go with any food. You just tear a piece off, dip it in something. Or slice it and make crostini, spread any kind of topping on, something as simple as cream cheese, or tapenade. I have a good tapenade recipe, and a nice bruschetta,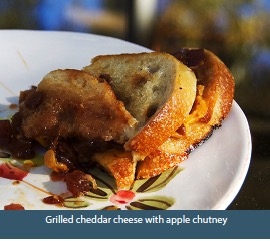 OQ: What about trends in ethnic foods.  Are there any you think are underrated right now?
RG: East Indian and North African foods have been unappreciated, and I think both will garner more well-deserved attention in 2017.
There are some good reasons for that. Spices and techniques for preparing Indian food make it really tasty. There's a flavor flash that a lot of folks haven't really experienced.  We get Italian food, we go get some Chinese food, but how about some nice garam masala? Or, North African food, something with a nice dukkah spice blend. 
OM: You've developed some recipes which incorporate not only dukkah, but some other fairly unusual foods. What are some of your favorite recipes?
RG: My millet cornbread. Millet is an ancient seed. Combining it with a gluten-free flour is a great way to make cornbread. I use millet in gluten-free foods because of its consistency and taste. It provides that cornmeal crunch and consistency.
OM: Another recent Bon Appetit magazine article discusses miscalculations people make when preparing and consuming vegan cuisine, including using too many meat substitution products to fulfill protein requirements.  Do you see that happening?
RG: This is so critical, because vegan implies no fish, meat, eggs, dairy. So where to get your proteins, essential oils, where do you get many of the vitamins you need, B12 for example. Often, people don't research or study nutrition, so they don't understand how critical nutrients are. They don't understand how to cook so they get the right combinations of food. You have to have knowledge of what you're doing so you can make an informed choice.
OM: What's a good vegan recipe that provides a lot of protein?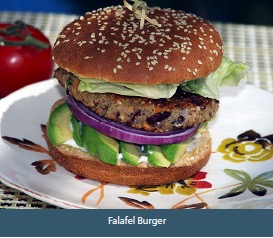 RG: My Quinoa Risotto is high in protein if for no other reason than it takes advantage of the miracle grain, quinoa. Also, my recipe for Falafel Burgers, which is in my new vegan cookbook.
OM: You provide a lot of that food-related knowledge you mentioned along with your recipes in your cookbooks, and you've completed several. But writing these must be time consuming. Why do you take time out of your busy schedule to write these books? 
RG: I write cookbooks because it's fun.  It's fun because I'm reviewing my recipes, like on my new gluten-free website, then I create new recipes, too. Also, I like to provide a little story, or introduction, before each recipe. For example, I write about why I love the fall season when introducing my Parmesan Roasted Butternut Squash recipe.
OM: In addition to cooking, developing recipes and writing cookbooks, you personally teach others to cook, such as the Hassle-Free Gluten-Free Cooking you just completed for the Ojai Culinary School at the Lavender Inn. You also teach private groups. What do people ask you to teach them? 
RG: I recently crafted a class based specifically on what one family wanted to learn to cook, which included Savory Risotto with Chanterelle Mushrooms, Chipotle Honey-Vinaigrette Caprese Salad and Ojai Orange Cake.
OM: And you cater and sometimes serve as a private chef. What are some of the dishes, types of cuisine these private clients request?
RG: I love doing catering; I have a lot of fun. One of the dishes most often requested is California Quesadillas. This is a fresh and colorful take on the traditional Mexican-style quesadilla.  Another is Harissa with Moroccan Slow Cooker Tofu.
OM: Concerning plans for the future. Any thoughts about opening a restaurant?
RG: My new cookbook just came out, and I've given a lot of talks around town and will do more if something comes up. I'll continue posting recipes to my website, and working on my column, "Chef Randy," syndicated in California newspapers. However, although I've had offers to open my own restaurant, I'm very comfortable and loving life the way it is.
Although Graham's life, "the way it is," includes penning cookbooks filled with vegetarian and vegan recipes, severing occasionally as a personal chef, and teaching cooking methods which eliminate meat, fowl, and fish, today, according to a 2016 Harris poll, approximately 8 million adults in the United States stand with him as vegetarians, and no longer is Graham's vegetarianism considered "weird."  For regular recipe postings, go to valley-vegetarian.com.