BUSINESS FEATURE | By Jesse Phelps
Ojai's Growing Grain-Free Granola Giant
D'Angelo's Delicious Concoction Goes Nationwide in Just Three Years
---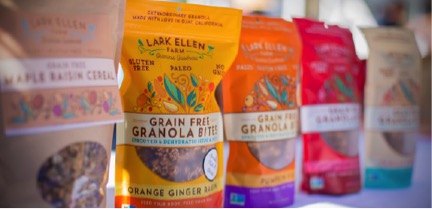 Tucked into a little corner on Ojai's East End sits Lark Ellen Avenue, and there, tucked into a small lot amid the orange groves sits Lark Ellen Farm. The grain-free granola brand of the same name is the invention of long-time Ojai resident Kelley D'Angelo, who you'll usually find, on Sundays, tucked into her booth toward the north end of the Ojai Farmers' Market.
These days you'll also find her, during the week, at her new 1,800-square foot space on Bryant Street, where her burgeoning granola business moved in January after it rapidly outgrew its original 450-square foot space near Ojai Valley Imports on the Avenue.
"We called (the old space) the dungeon. Things were piled up so high in the windows, there was no light coming in," D'Angelo says. "And then I got trapped in my chair."
D'Angelo is bright and slight, the daughter of Don and Ann Scanlin, he of Ojai Valley Community Bank and she of the Ojai Valley Museum. Their Ojai roots go deep — D'Angelo was a teen when they moved here from Santa Paula and she attended Nordhoff High School. In the finest tradition of family first, the two paragons of the town haven't hesitated to first support their daughter's ambition, and subsequently pitch in, however and whenever as needed, as the business has grown.
"They're amazing people," says D'Angelo, as we lounge street-side, chatting and listening to the improvised riffing of a brother-and-sister team of musicians who have their own space near her booth.
"As a single mom … at times I thought I couldn't go forward, and they (said) 'You have to follow this dream.' When I was doing it out of my house, my mom would take the bags home at night and fill them while she watched TV, and bring them back in the morning. If I forgot something, my dad was shuttling back and forth between here and the Farmers' Market. And now my dad comes down to the Farmers' Market every week and my mom still helps behind the scenes, doing books. That's the kind of support you just can't get from anybody outside."
In addition to her parents, she has a dedicated crew of five or six, including her two kids. "It's good for them, in my opinion, for a couple of reasons," she explains. "They have me role-modeling dreams, even when it's hard, and they see me doing it for them and trying to build a business that can be their legacy and sustain our family. And it's good for them because … they're learning how to do the money and how to interact with people. They're just really learning how to be responsible people through this process."
The idea for the business was born of physical necessity. Suffering from joint pain in her knees for years, D'Angelo saw doctor after doctor, pounded Advil and then started having digestive issues. That's when she sought out Val Poulos from Ojai's Vitality Fitness, who put her on a program called the Whole 30. It was an attempt to radically shift her diet to eliminate inflammatory foods. It worked. "I felt so amazing, and I said, I'm never going back to eating the old way again,'" says D'Angelo. "I just started searching recipes and started playing in the kitchen and made this concoction."
The rest, as they say, is history. She opened her booth in August of 2014 as Ojai Granola Girl but changed the brand after less than a year due to copyright conflicts. She sold out immediately. Rainbow Bridge came calling. Before long, one could find bags of "Sweet & Salty Trail Mix" and "Grain Free Granola Bites" not just in Ojai at places like Westridge Markets and the Ojai Valley Inn, but throughout Southern California — at Lazy Acres, Erewhon Natural Foods, Sprouts locations and Jimbo's Natural Food Grocer.
She's also expanded to Pacific Northwest, and "it's really going crazy on the East Coast." She's got online partnerships with Amazon and Vitacost.com, and more distribution deals are in the works. Of the burgeoning business, she says, "I really think it found me."
The GMO- and gluten-free, paleo-friendly ingredients in her beautifully branded bags include sprouted nuts and seeds — D'Angelo points out that most processes either cook out the healthy goodness of such ingredients, or fail to tap all their potential nutrients in the first place by including them whole — and maybe some maple syrup or dairy-free chocolate for sweetening and flavor. And not much else.
"Our tagline is feed your body, feed your soul. And through that, we work with our clients to encourage them to be kind to themselves — to really feed their bodies from the inside out," D'Angelo says. "It's what you think, it's what you feel. That's why we have little inspirational taglines on the bottom of the bags. My favorite is, 'If you don't take care of your body, where are you going to live?'"
In just a few, short years, in her new space and with a dedicated crew, it's a whole different arena from the days of packing 30 rough-looking bags for her weekly trip to the Farmers' Market. It's even a leap from those days in her old, tiny, overstuffed office, when she had to rely on her good friends at Jilz Crackerz to help her ship pallets.
She credits much of her success, and her joy in the process, to the people of Ojai. As we stand talking, a delightful, smiling old woman approaches us slowly, using a walker for mobility. D'Angelo's face lights up as soon as she sees her and we all chat for a minute. As she leaves, D'Angelo wishes my new friend, Marilyn, a good day and a safe walk home.
"I have this amazing customer base, like Marilyn," gushes D'Angelo. "She's like 93 and I went to her birthday party. And I just met her here. Just these amazing people who have just come into my life through this business and I'm just really grateful for them because I couldn't do any of this without people who have appreciated my product and encouraged me to move forward."