The Baron of Wheeler Hot Springs
Nationally known "power yoga" teacher Baron Baptiste is the new owner of Ojai's long-shuttered Wheeler Hot Springs resort. Can he bring it back to life after a 20-year hiatus?
By Mark Lewis
The first hint came by way of Instagram on July 29. "An amazing future opening up here in Ojai," posted Baron Baptiste, a well-traveled yoga entrepreneur who currently makes his home in Park City, Utah. The image he posted apparently was the Ojai Valley Inn pool, but his focus was six miles to the north up Highway 33: Wheeler Hot Springs, the defunct resort with the long and sometimes troubled history.
By November, the news was out: The Baptiste Foundation had paid $3.65 million to acquire the historic Wheeler property from its previous owners, dentist Daniel Smith and his wife, Maureen Monroe-Smith, of Malibu, and their partner Rickey M. Gelb, a real-estate developer based in the San Fernando Valley. This was exciting news in Ojai, where many people have fond memories of soaking in Wheeler's natural hot springs, which have been closed to the public since January 1997.
"I swam in the pool at Wheelers growing up in Ojai, and enjoyed the hot tubs and restaurant back in the '80s," said Suza Francina, a longtime Ojai yoga teacher, author, and current City Council member. "I'd love to see it come back to life if it was handled with sensitivity and respect. So I am very curious about what Baron envisions."
Baptiste isn't saying. At least not yet. But he seems quite excited about the property's potential, to judge from the Wheeler image he posted on November 28: "In Ojai … standing in a beautiful dream made real."
If that dream involves hosting yoga retreats at Wheeler, Baptiste will soon be having some interesting conversations with Ventura County regulators. Presumably he is well aware of the challenges the previous owners faced in trying to win county approval for reinventing Wheeler as a modern resort with overnight accommodations. After eight fruitless years, the Smiths and Gelb finally threw in the towel in 2015 and listed the property for sale as a potential private residence.But its purchase by Baptiste, in the context of Ojai's growing popularity as a destination for yoga-loving visitors, suggests other possibilities — if the new owner can persuade the county to go along.
Baptiste did not respond to email and voice-mail queries from The Ojai Quarterly, but his Instagram posts imply that he has big plans for the property. One of the hashtags that festooned his Nov. 28 post was especially suggestive: #baptistesanctuary. An 84-acre resort is a lot of sanctuary for just one person.
Another clue: Per county records, the purchaser is not Baron Baptiste the individual, but his Baptiste Foundation, a nonprofit organization which according to his website "discovers new partnerships to share the transformative power of Baptiste yoga with everyone, everywhere," by bringing yoga to groups of people "who need it, but might not have access to it" — including armed forces veterans and active-duty personnel, people recovering from addiction, and victims of domestic violence."
Whatever his plans may be, Baptiste has not yet formally presented them to county officials. 
"I did meet with several interested buyers for the Wheeler Hot Springs property this past summer, though I do not recall their names," county permit-administration official Winston Wright told the OQ in late January. "There are no active applications to open the facility."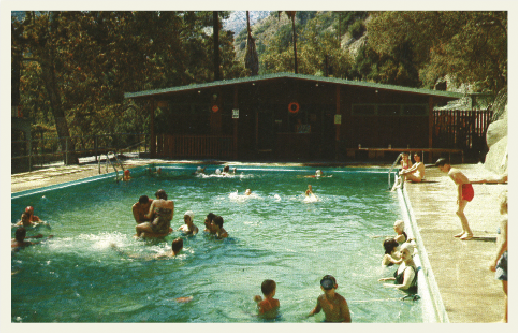 WHEELER DEALER — Baron Baptiste is only the latest in a long line of owners to view Wheeler Hot Springs through the eyes of a visionary. That Nov. 28 post began with a quotation from the song "Ruby Tuesday" by the Rolling Stones: "Lose your dreams and you might lose your mind." An apt sentiment, given how things turned out for the property's original dreamer.
Wheeler Blumberg, for whom the springs were named, discovered them one day in 1888 while he was hunting deer near the North Fork of Matilija Creek. Blumberg homesteaded the surrounding acreage, built a hotel on the property, and extended the road there from nearby Matilija Canyon. The resort prospered, but Blumberg did not reap the benefit: He went mad in 1907 and died screaming in a padded cell. 
Subsequent owners, including the television personality Art Linkletter, continued to operate the resort for the next 90 years, with varying degrees of success. Bad luck dogged many of them, including Evelyn and Frank Landucci, who acquired Wheeler just before it was destroyed by the great flood of 1969. They rebuilt it and added a popular restaurant, which Evelyn's son John Kaufer later successfully promoted as a jazz nightspot until he was killed by a falling tree near one of the springs. By 1993 the property had passed to the control of Tom Marshall, who ran it straight into bankruptcy four years later. The Smiths acquired the property for $3.3 million in 2007, but were unable to reopen it. Now it's Baron Baptiste's turn to try his luck.
(For a detailed account of the tangled and often fraught history of Wheeler Hot Springs from 1888 through 2011, do a Google search for "New Owners Confront Old Issues" by Mark Lewis, originally published in the Spring 2011 issue of The Ojai Quarterly.)
Baptiste, 53, was born into an American yoga dynasty. His parents, Walt and Magana Baptiste, were San Francisco yoga pioneers, and his sisters, Sherri and Devi Ananda Baptiste, are notable yoginis in their own right. Baron started out teaching in the family studio; then he headed to Southern California to study under Bikram Choudhury and others before branching out on his own, with a clientele that included Hollywood stars like Raquel Welch, and later the Philadelphia Eagles pro football team. Baptiste eventually landed in Boston, where his studios were enormously popular, and he won a national following as the author of such books as "Journey Into Power: How to Sculpt Your Ideal Body, Free Your True Self, and Transform Your Life With Yoga."
There have been some bumps along the way. A 2006 profile of Baptiste published in Boston Magazine described some acrimonious business-related lawsuits (one of which involved a son of the late Robert Kennedy). The magazine also quoted a dig at Baptiste by Choudhury: " 'He's not doing yoga,' Bikram said. 'He's doing aerobic exercise. He's doing Jane Fonda.' "
To be fair, the same observation has been made about all modern yoga teachers, presumably including Bikram himself, by Ojai's own Jiddu Krishnamurti. "I don't know why they call it yoga, it should be called just exercise, but that wouldn't appeal to you!" the sage said in 1979, in response to a question from his audience. "You can do this kind of yoga exercise for the rest of your life, but you won't awaken spiritual insight, nor will the awakening of a higher energy come into being."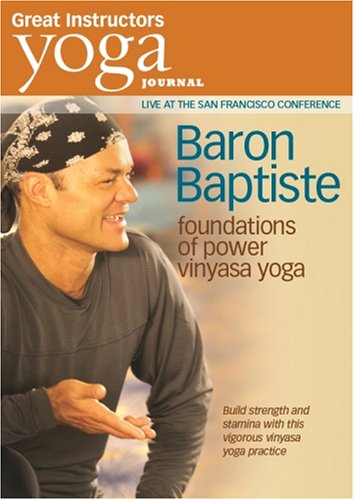 Nevertheless, modern yoga is enormously popular in America, and Ojai is increasingly popular as a destination for yoga-minded visitors. This is due in part to the valley's long association with Eastern spiritualism, which (ironically) goes back to Krishnamurti's arrival here in 1922.
Francina remembers taking classes at the World University in Ojai many years ago from the legendary yogini Indra Devi (who also visited Baptiste's parents' studio in San Francisco).
"The whole yoga community is extremely familiar with Ojai," said Calleen Cordero, a well-known footwear designer who until last year hosted many yoga retreats at her Calliote Canyon property just south of Wheeler Hot Springs. "It's a really popular destination, and not just with L.A. people. We got a lot of inquiries from East Coast people as well."
Why Ojai? Cordero names three factors: Its bucolic setting, with plenty of hiking trails and nighttime views of the Milky Way; its long association with New Age spiritualism; and its proximity to Los Angeles.
"It's only an hour and a half from L.A.," she notes, "and Los Angeles is a Mecca for yoga."
A yoga retreat on the Wheeler property would have a fourth factor going for it, Cordero notes: the hot springs. Many yoga enthusiasts are fond of soaking in natural hot springs rich in minerals, which are said to have healing properties.
It was the local hot springs, in fact, that originally led to the founding of Ojai, then called Nordhoff, back in the 1870s. This town started out as a health resort, conveniently located near the springs of Matilija Canyon. A century later, when the Landuccis bought the Wheeler property in the late 1960s, Evelyn Landucci's initial idea was to turn the resort into a Southern California version of Esalen in Big Sur. If Baron Baptiste does turn the property into a yoga center, it will have come full circle.     
Yoga Destination — Ojai was a yoga Mecca in its own right during the annual International Ojai Yoga Crib gatherings organized by Kira and Eric Ryder of the former Lulu Bandha's studio on East Matilija Street. These gatherings, which drew hundreds of yoga instructors from faraway places, are no longer held. But the valley still is home to some 15 yoga venues of various sorts, and yoga is "an integral part of the Ojai lifestyle," said Veronica Cole, director of public relations and marketing for the Ojai Visitors Bureau.
"It's definitely part of our marketing strategy, but not so much yoga only — it's more about health/wellness/mindfulness and everything that entails," Cole said. "What we've been seeing is that yoga venues have begun offering additional activities which speak to a sense of community, such as get-togethers to enjoy food, reflection, music and seminars."
That sounds like the definition of a yoga retreat, such as those that take place periodically at Casa Barranca, also known as the historic Pratt House, high up on Foothill Road. Owner Bill Moses does not advertise the property as a yoga retreat; per his agreement with the county, he merely makes it available, discreetly, for group rentals. But many of the people who rent it are yoga teachers hosting weekend retreats.
For Moses, yoga pilgrims are the perfect Ojai visitors. They're here seeking peace and tranquility, so they're quiet and don't bother the neighbors.
"They're the least impactful, the most respectful" visitors a town could ask for, he said. "It's the opposite of Vegas."
Moses said he does not know Baptiste's plans, but he can see Wheeler Hot Springs as a yoga destination: "If they did it in a way that was environmentally OK, I think it would be great."
Suza Francina also would welcome a yoga retreat on that property, with the same caveat.
"I would not like to see the land heavily used in a way that brings a zillion more cars up that stretch of the highway, but if they could mitigate the traffic by not allowing daily trips back and forth (in a retreat you usually don't leave the area)," she said. "But first we have to see if the county even allows yoga retreats up there."
There's the rub. The previous Wheeler Hot Springs owners complained of county resistance to their plans. To reopen, Wheeler would have to meet stringent standards, especially regarding its water-treatment facilities.
Calleen Cordero said she sold her nearby Calliote Canyon property last year after running into permit problems. Nevertheless, Cordero thinks that Baptiste probably has the resources to make it happen.
"If you have money and you do it to code," you can get a conditional use permit, she said. "All you have to do is build things to code."